10 Inventions That Have Roots in Baltimore
Baltimore's rich history in innovation is often overlooked. Many are unaware of the countless inventions that have roots in this great city. Here are ten inventions that had a revolutionary impact within Baltimore and around the world! 
1783 World's First Dredger Invented in Baltimore
Baltimore's success as a port is owed, in part, to brothers Andrew and John Ellicott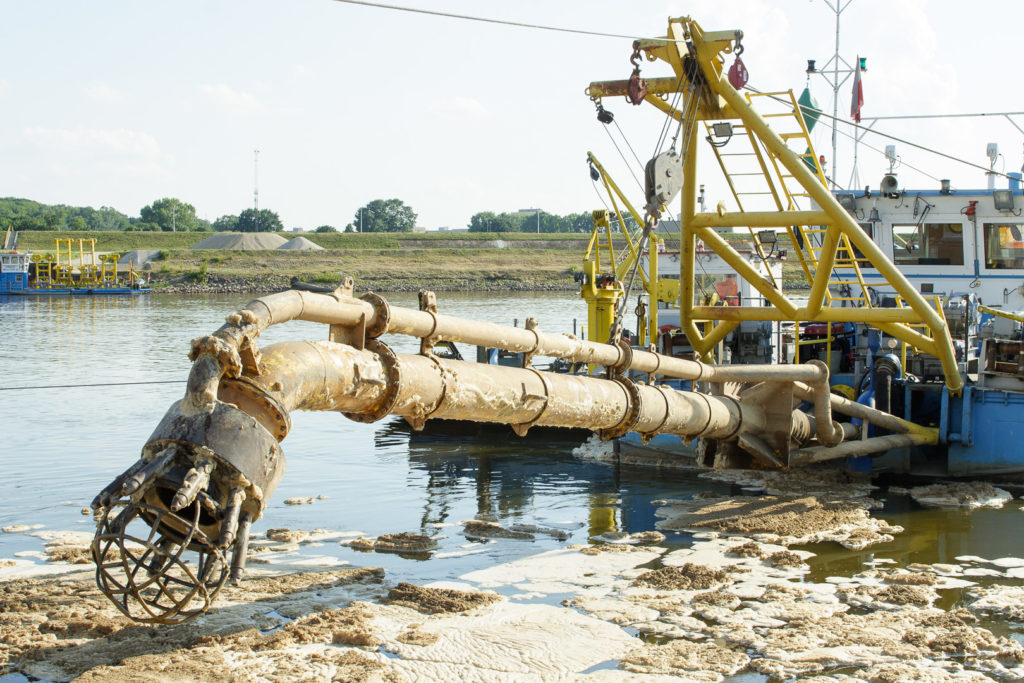 Baltimore's Inner Harbor is home to some of the city's most well-known attractions. Lining its shores are museums and restaurants that showcase Baltimore's rich history in innovation, arts and cuisine. Visit Pier 5 and you will be standing on one of Baltimore's oldest seaports, dating back some 300 years! The pier, before becoming home to various shops and restaurants, served as a major shipping port for goods such as tobacco and grains. 
As trade picked up in the city, shipping ports needed to be enlarged in order to accommodate larger ships. Two brothers, flour merchants Andrew and John Ellicott, (Baltimore area locals will recognize the name Ellicott, as in Ellicott Mills, or Ellicott City) are credited with employing the first crude dredger in 1783. Also known as the Mud Machine, this new adaptation of ancient technology would remove debris, mud, and sediment from the harbor floor, as a way to increase the depth of the water. You can read more about the technology behind the Ellicott brothers' horse-drawn dredger here.
This local invention helped shape Baltimore City and is still in use around the world today! 
1797 The USS Constellation, Launched in Baltimore's Inner Harbor 
Among the first ships of the US Navy and its last sail powered ship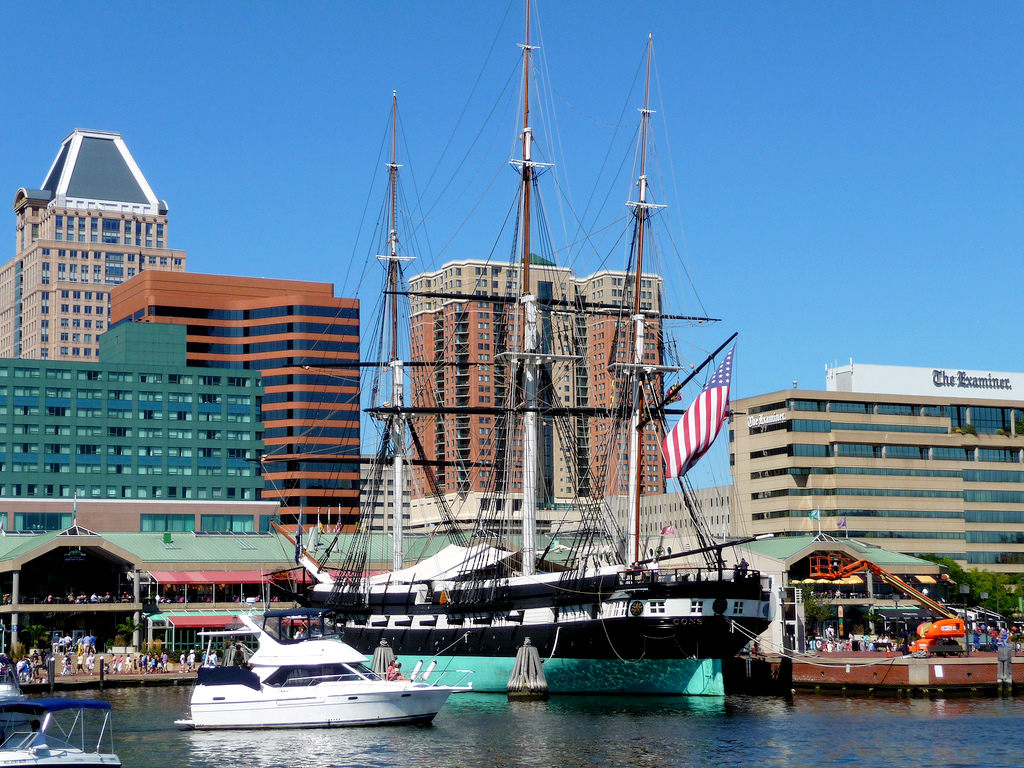 The Ellicott brothers dredging efforts helped preparations to house one of the US Navy's first ships, the USS Constellation. The Constellation was one of 7 Navy warships that were constructed as a result of the Naval Act of 1794. The Naval act provided funds for the construction of six frigates (warships) along the East Coast after American vessels continued to fall prey to pirates in the Mediterranean. 
The USS Constellation was designed by Naval constructors Joshua Humphreys and Josiah Fox, in the Sterrett Shipyard in Baltimore, Maryland. She and the other 6 Navy warships were designed to be larger and more heavily armed than frigates of their time, making them powerful weapons while at sea. Their design made them faster, more durable and able to overpower enemy ships. The Constellation and her sister ship, the Congress were more heavily armed than other ships at the time, housing between 38-48 guns. 
The Constellation launched on September 7, 1797, with its first mission of fighting Barbary pirates in the First Barbary War and stayed active through years of military conflicts until it was disassembled in 1853. In 1854, a new sloop-of-war was built and carried the same name. 
The 1854 USS Constellation is the only surviving ship from the Civil War and the last sail powered ship built by the US Navy! You can take a tour of the Constellation when visiting Baltimore's Inner Harbor.
1816 America's First Gas Light Illuminated the Baltimore Museum
Rembrandt Peale illuminates the streets of Baltimore with gas light technology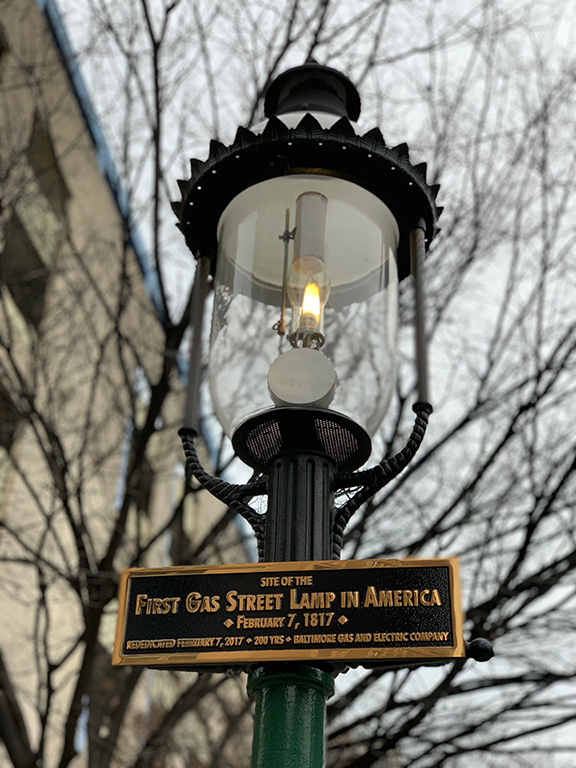 In 1816, popular artist and businessman Rembrandt Peale illuminated the Baltimore Museum (now the Peale Museum) with gaslight technology. Also known as the "Magic Ring of Fire," the gas light was a circular hanging fixture, that when connected to a fuel source and lit by hand, would illuminate a room. These gaslight chandeliers, or "gasoliers" burned coal gas, a byproduct of coal distillation.
Fun Fact!
Known today as the Peale Museum, it was the first building designated as a museum in the United States.
Peale demonstrated the gaslight technology to onlookers at night. They would watch from Holliday Street as the museum lit up. This led Peale on to his next business venture, founding the Gas Light Company of Baltimore.
1816 First Gas Utility Company Established in America
The history behind Baltimore Gas and Electric Company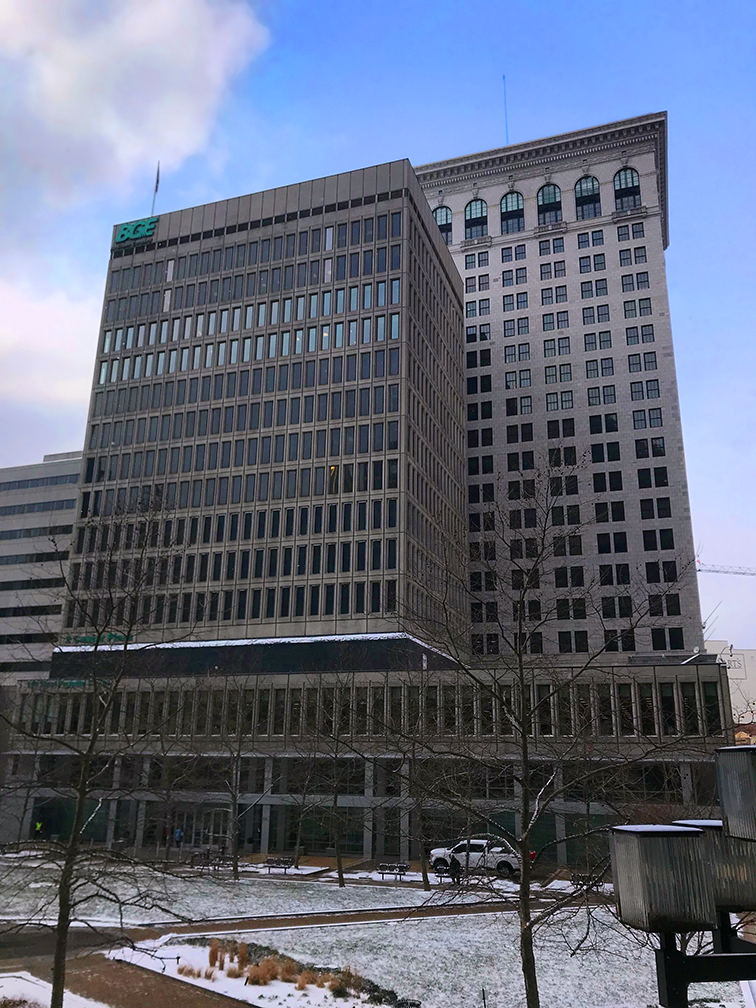 The Gas Light Company of Baltimore, now recognized as Baltimore Gas and Electric was established in 1816 after Rembrandt Peale's initial success with illumination in his museum. In a world of candles and oil lamps, the gaslight proved to be extremely successful. Among The Gas Light Company of Baltimore's first projects was lighting the city of Baltimore with gas streetlights, making the city the first in America to be lit by gas!
By 1945, over 16,000 gas lamps had been installed throughout Baltimore before converting to mercury vapor lamps in 1950. 
The company re-branded in 1955, changing its name from the Gas Light Company of Baltimore to Baltimore Gas and Electric Company, (now BGE.) Today, BGE serves over 125 million electric customers and more than 650,000 gas customers throughout Baltimore City and Maryland counties. 
A replica of the initial gas light still stands on the corner of North Holliday and East Baltimore Streets!
1828 America's First Common Carrier Railroad Built in Baltimore 
Baltimore is the birthplace of American railroading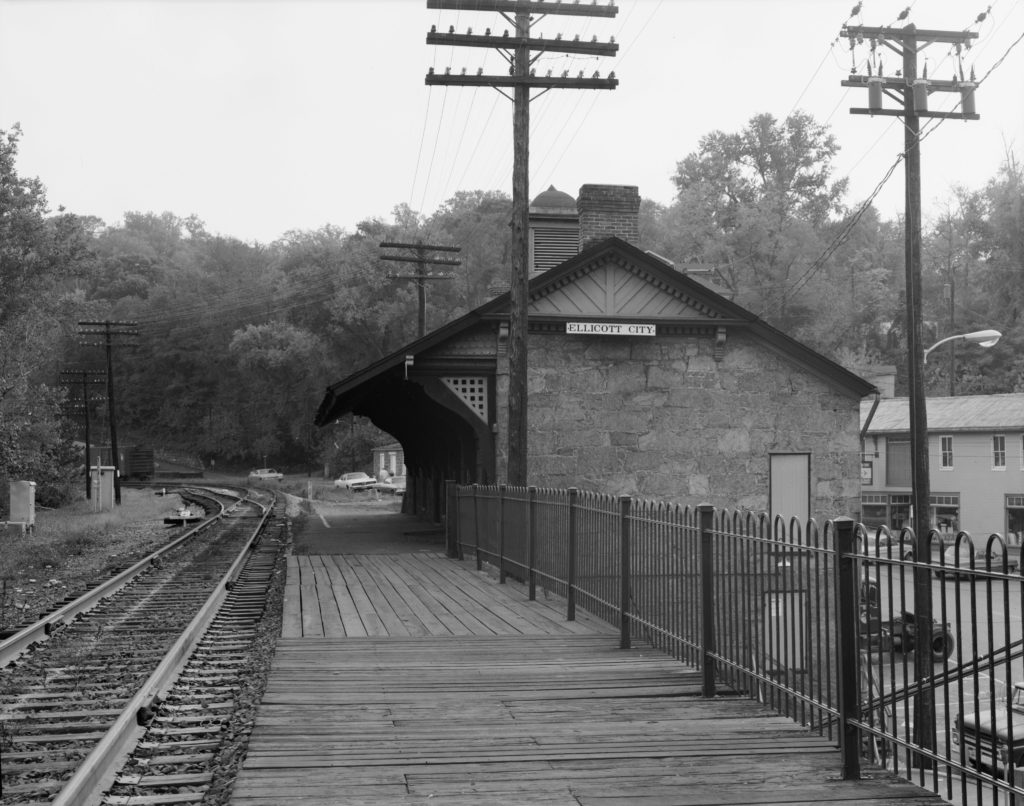 The Baltimore and Ohio Railroad (B&O Railroad) is celebrated for breaking ground and linking the eastern United States. Their slogan, "Connecting 13 great states with the Nation," was quite literal, as the railroad, despite opposition, expanded regional capabilities providing more efficient means of travel across the north.
On July 4th, 1828, the first cornerstone was laid by Charles Carroll, an original signer of the Declaration of Independence. He stated during the ceremony, "I consider this among the most important acts of my life, second only to my signing the Declaration of Independence if even it be second to that."
The first section of the B&O Railroad tracks stretched 13 miles from Baltimore to Ellicott Mills (now Ellicott City). It relied heavily on horses to pull passengers and freight. The horse-drawn rails were made of wood and iron straps that were laid upon stones. 
By 1829, the B&O Railroad began testing steam engines as a new means of powering rail, and by 1880 Baltimore had become one of the nation's largest ports.
You can see the original cornerstone and replica trains by visiting the B&O Railroad Museum's Roundhouse.
1844 First American Telegram Sent Along B&O Tracks
Samuel F.B. Morse's electric telegraph changes communications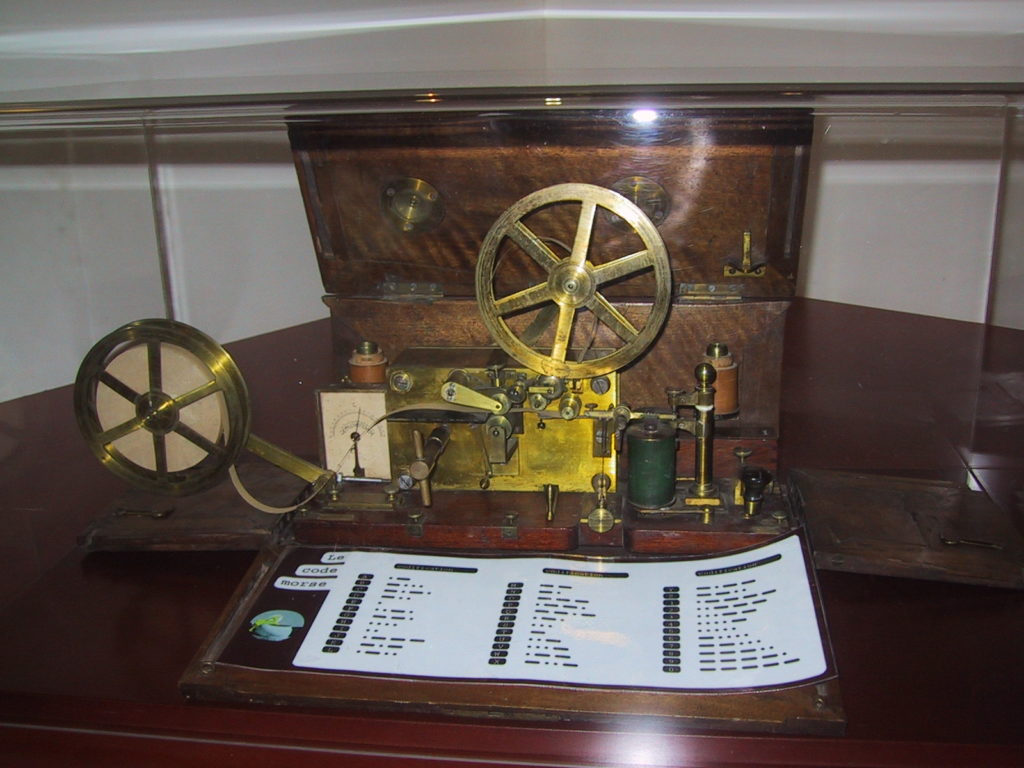 The first telegram ever sent in the United States, "What Hath God Wrought?"  was sent from Washington, DC to Baltimore.
Samuel F.B. Morse had telegraph lines and utility poles installed along the right-of-way of the Baltimore & Ohio Railroad.  The lines lay between Baltimore and Washington D.C. In 1844, Morse successfully demonstrated the telegraph line by sending a message from the Old Supreme Court Chamber in Washington to the Mount Clare station in Baltimore.
Fun Fact!
Did you know that the widely-recognized distress signal
SOS
does not stand for "save our ship," "save our souls," or any similar phrase? The letters, instead, were a convenient and quick way to send a distress message that could be understood clearly. Using Morse Code, SOS transmits as three dots, three dashes and three dots (…—…). This signal was simply efficient and could be easily heard and understood by others!
The telegraph's creator, Samuel F.B. Morse, was a jack of many trades. He thrived as an artist during the 19th century with such paintings as the Gallery of the Louvre and Dying Hercules. However, Morse is lauded as an inventor for his work on the electromagnetic telegraph and Morse Code which had a revolutionizing impact on communications.
The invention of the telegraph was monumental for our nation. For thousands of years, the only way to send a message across was by word of mouth or mail coaches. Morse's invention of the electric telegraph made spreading information quick and more efficient. 
Here's a list of some historic telegrams that were sent using Morse's technology.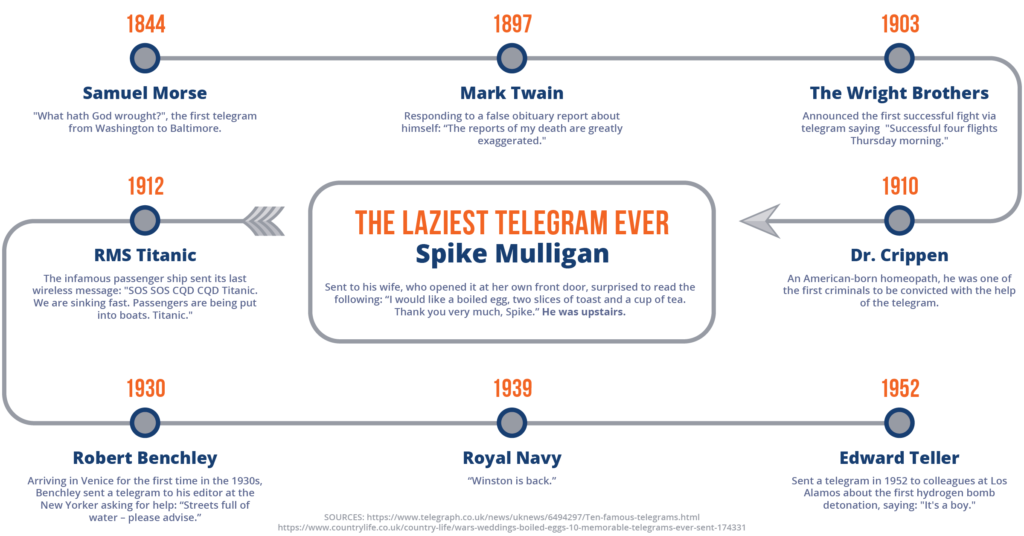 1854 First Commercial Ice Cream Factory Opens in Baltimore
Thanks to Dairyman Jacob Fussell we can all scream for ice cream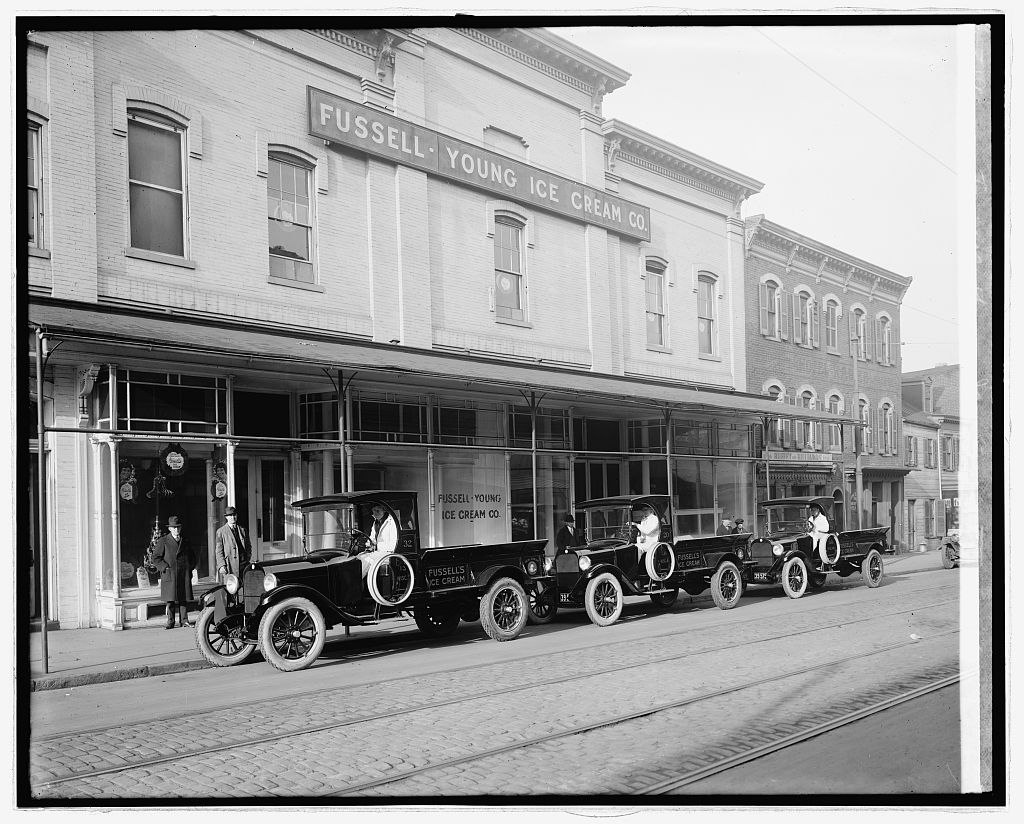 The invention of ice cream dates back as early as 200 B.C. when rulers like Alexander the Great enjoyed snow flavored with honey and nectar. Biblical references suggest King Solomon sought snow-cooled ice drinks, and Nero Claudius Caesar enjoyed snow flavored with fruits and juices. Marco Polo is even recognized for creating a sherbet recipe that spread quickly across Europe.
Fun Fact!
In the 1850s, the average American ate one teaspoon of ice cream per year. Now the average is 23 quarts a year.
Ice cream was considered a dessert for the upper class until Dairyman Jacob Fussell began to manufacture it in 1851. This tasty treat swiftly became a delicacy that was affordable for everyone. Fussell ran a milk and cream delivery business in Baltimore and quickly realized that the demand for dairy was unpredictable, often leaving him with a surplus of inventory. Instead of disposing of the leftover product, Fussell decided to turn it into ice cream. He sold his products in four stores across Baltimore. As his business boomed, Fussell began to ship his products to Washington and New York. 
To keep up with demand, Fussell relocated his business to Seven Valleys, Pennsylvania where he built an ice house and factory. Fussell would transport his ice cream along the B&O Railroad to residents of Baltimore!  In 1854 Fussell relocated his business back to Baltimore, making it the first Commercial Ice Cream Factory in the city!  
1892 Crown Cork Bottle Caps are Invented by William Painter 
The history behind the bottle caps you can find on your favorite beverage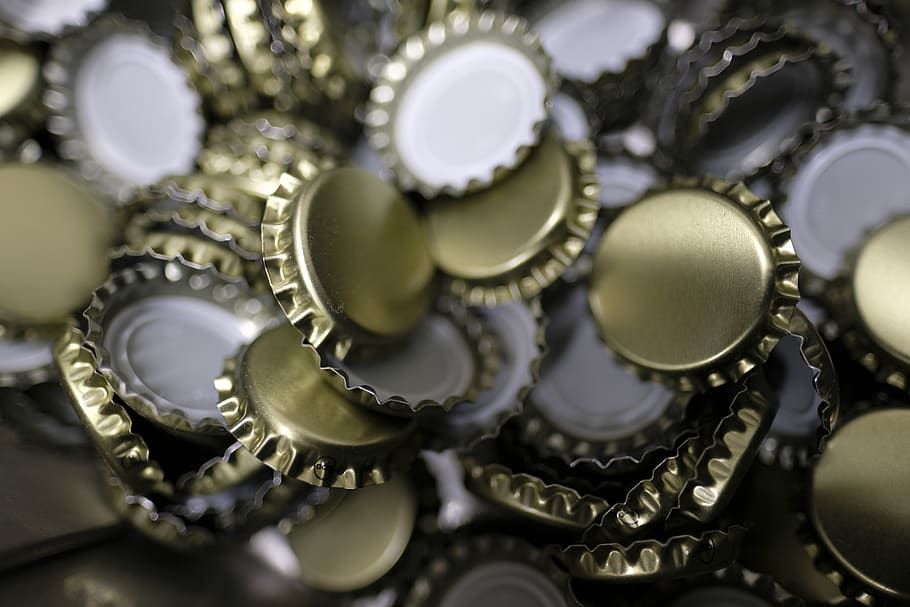 That's right, those bottles caps you dispose of after popping open your favorite bottled beverage were designed and manufactured by Crown Cork & Seal Company right here in Baltimore.
William Painter immigrated to the United States from Ireland in 1839. Settling in Baltimore, Maryland, William patented over 80 devices, ranging from safety ejection seats on passenger trains to machines used to detect counterfeit currency. Perhaps most notably, Painter is known for his invention of the Crown Cork Bottle Cap and opener. 
During the 1800's, the soda industry had longed to find a solution for sealing carbonated beverages. Soda bottles were sealed during this time with a cork or plug that was inserted into the bottle neck. This method proved to be insufficient as the plugs were unable to withstand the carbonated gases inside of the glass bottles, causing the beverages to leak. Painter's crown cap design put an end to leaky beverages!
1917 First Portable Handheld Drill Invented by Black & Decker 
The Baltimore story behind one of America's most commonly used tools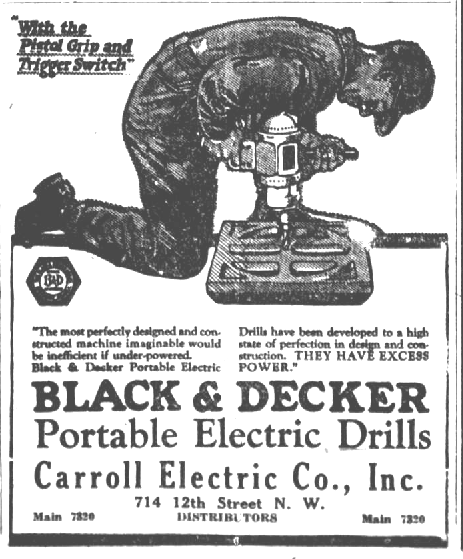 In 1910, Duncan Black and Alonzo Decker quit their jobs and began manufacturing bottle capping machines and candy dipping devices in Baltimore. Together they opened Black & Decker Manufacturing Company in Baltimore and began work on designing the world's first portable power tool. By 1917, they received a patent and began manufacturing the world's first portable electric drill. The ½ inch drill featured a universal lightweight electric motor, trigger control, and an easy to use pistol grip handle, making the drill operable by one person. Prior to this invention, drills were large, stationary and handled by multiple people.
In 2009, Black and Decker merged with Stanley Works, an American hardware manufacturer. The combined business, now called Stanley Black & Decker, is still located in Baltimore and brought in over $14 billion in revenue in 2019!
1936 Old Bay Seasoning Invented by Gustav Brunn 
The savory history behind one of Baltimore's favorite seasonings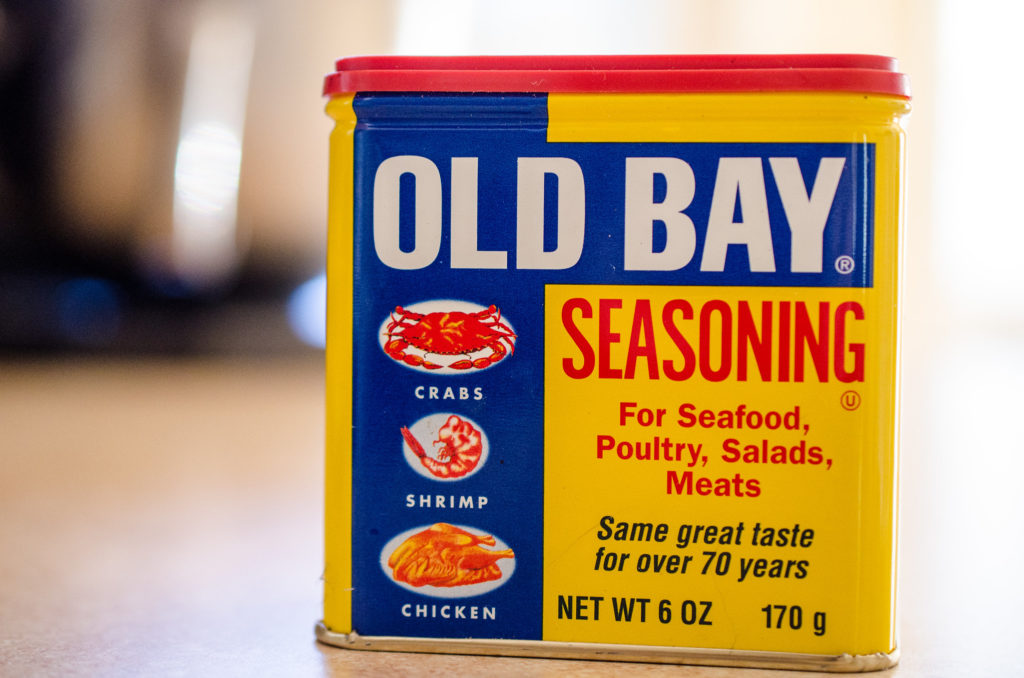 This 18-spice blend has been a staple in Maryland's food industry for over 75 years. Mix some celery salt, red pepper and paprika and you're on track to perfecting a seasoning for any dish. 
Old Bay Seasoning was whipped up by German refugee Gustav Brunn. The spice was originally named "Delicious Brand Shrimp and Crab Seasoning," before being renamed after a local steamship line at the time: Old Bay. The spice grew in popularity among seafood lovers during the 20th century as a seasoning that could go on anything. 
McCormick & Company bought the spice in 1990 and has kept the recipe the same for over 30 years. McCormick still manufactures the seasoning in Baltimore and distributes more than 8.3 million cans per year!
Many replicas of the famous spice have originated over time.
J.O. Spice Company released a similar seasoning in 1945. Also manufactured in Baltimore, J.O.'s Crab House Spice is a custom blend of seasoning also used for seafood. Things have gotten steamy between J.O. and Old Bay lovers, leading to many debates over which Baltimore-based seasoning is best. 
Things got even spicier in 2018 when Old Bay filed a lawsuit against Pittsburgh-based company, Primal Palate , for copyright infringement. Primal Palate released a seafood spice with "a fiery new flavor," similar to that of Old Bay. What better name to call this new seasoning one may ask? You guessed it; Primal Palate named the seasoning "New Bae".
Looking to spice up your cuisine with Baltimore's favorite seasoning? Check out these recipes that use the famous 18 spice blend!