Central Japan Railway Introduces Improved SCMAGLEV Train
Now Even More Efficient
This week, Central Japan Railway Company introduced an improved version of the Series L0 (L-zero) SCMAGLEV train that will begin test runs toward the end of this May.
Central Japan Railway Company unveiled the Series L0 SCMAGLEV train to media in 2012, and the vehicles started test runs in 2013. The Series L0 set the Guinness World Record for fastest maglev train, recording speeds of 374.68 miles per hour (603 kilometers per hour), in 2015. Since renewal and extension of the Yamanashi Maglev Line in 2013, the SCMAGLEV train has traveled more than 1.3 million miles and hundreds of thousands of passengers have experienced the public ride.
The latest version of the Series L0, unveiled this week, improves on the L0 by reducing air resistance, power consumption, noise and emissions. The improved version includes:
Aerodynamic Front Shape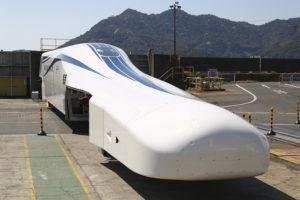 The improved front shape reduces air resistance by approximately 13 percent, which results in noise reduction and less power consumption.
Environmentally-friendly Inductive Power Collection System
The current Series L0 vehicle employs an inductive power collection system and a gas turbine generator to power onboard systems. The improved version has removed the gas turbine and fully employs an innovative inductive power collection system to draw electricity wirelessly from ground coils, enabling stable, contactless power transmission to the onboard equipment. The environmentally friendly system does not use fuels and has no exhaust emissions.

A New Position of Head Light and Onboard Forward-Viewing Camera
A repositioning of the onboard, forward-viewing camera and headlights provides improved visibility.
Updated Vehicle Appearance
In Japan, the improved version of the Series L0 is receiving a new paint scheme as well. A revised blue streamline projects a sense of dynamism, continuous evolution, and smooth air flow.