Northeast Maglev is excited to welcome a new addition to our Communications team, Director of Strategic Communications and Public Engagement, Sebastian Warren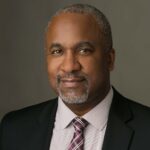 Northeast Maglev today announced that Sebastian Warren, SCMP has joined the team as Director of Strategic Communications and Public Engagement and . Warren will be helping to bring Northeast Maglev's transformative transportation solution, the 311 mph Superconducting Maglev train, to the Northeast Corridor.
In this capacity, Warren will play a key role in stakeholder engagement and media relations for Northeast Maglev's efforts.
Warren brings 30 years of professional communication experience to Northeast Maglev, having worked in the private, public and nonprofit sectors. A Post 9/11 Veteran, he served in the United States Coast Guard where he handled International Search and Rescue, worked the TWA: Flight 800 Response, and the Coast Guard's response after 9/11. He also served as spokesperson for the Department of Transportation/Department of Homeland Security's Transportation Security Administration.
We are excited to have Sebastian on board, please join us in welcoming him to the team!