We're Celebrating 12 Years of Working to Change Transportation in the U.S.
March 12, 2022 marks 12 years for the team working to bring the world's most advanced transportation system to the United States. As we continue to look forward to the day when we can ride the superconducting maglev between the major metropolitan areas of the Northeast Corridor within an hour, we thought it would be fun to take a look back at how we've gotten to this point.
Early History
In order to understand the history of the Northeast Maglev project, we need to take a quick step back into the past and take a brief look at the history of Maglev in the United States.
U.S. Maglev Deployment Program
In 1998, the Maglev Deployment Program (MDP) was established with the purpose of demonstrating the feasibility of Maglev technology to provide a safe, efficient transportation option in the U.S. Through a nationwide competition, the Federal Railway Administration (FRA) selected seven states, from a pool of eleven, to receive grants for pre-construction planning. The Baltimore to Washington, D.C. and Pittsburgh (Pennsylvania) projects were selected for continued evaluation and initial project development.
2003 Draft Environmental Impact Study (DEIS)
In 2003, FRA, in cooperation with the Maryland Transit Administration (MTA) prepared a Draft Environmental Impact Study (DEIS) on a proposal to build a Maglev project linking downtown Baltimore to BWI Marshall Airport and Union Station in Washington, D.C. German maglev technology, Transrapid, was selected for the project. An EIS was prepared, but Maryland suspended the project and a final EIS was never issued.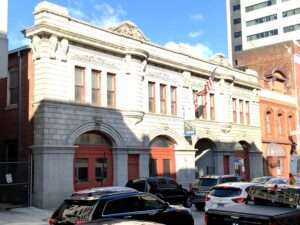 2012 6 S. Gay Street Property purchased at auction
With hopes of reviving the Maglev project and breathing life back into one of Baltimore's forgotten relics, the derelict and neglected old firehouse on Gay Street was purchased. The original auction notice read, "Great building with some historic significance. Originally a firehouse that was converted to offices and later used as a school for Baltimore City College." The old building would soon be home to one of the most ambitious and transformational infrastructure projects the United States has ever seen.
2015 Project Revival
In March 2015, the FRA issued notice of available funding under the MDP. In April 2015, acting on behalf of Baltimore-Washington Rapid Rail (BWRR), Maryland Department of Transportation (MDOT) submitted an application to the FRA for funding to perform preliminary engineering and National Environmental Policy Act (NEPA) work related to BWRR's SCMAGLEV proposal.
Maryland Railroad Franchise
Also in 2015, Baltimore-Washington Rapid Rail (BWRR) announced that the Maryland Public Service Commission (PSC) approved BWRR's application to acquire a passenger railroad franchise previously held by the Washington, Baltimore and Annapolis Electric Railroad Company. The original railroad franchise was abandoned in 1935.
2016 Federal Grant
In 2016, FRA awarded $27.8 million to MDOT to prepare preliminary engineering and NEPA analysis for an SCMAGLEV train between Baltimore, Md., and Washington, D.C. Baltimore-Washington Rapid Rail is providing preliminary engineering and technical assistance as well as additional funding support, in concert with the FRA grant, for the NEPA process.
2021 Draft Environmental Impact Statement (DEIS)
On January 15, 2021 the DEIS was published in Federal Register beginning a public comment period. The public comment period was extended several times to allow for more public input and finally closed on May 24, 2021. FRA, MDOT and a host of federal, state, and local government agencies will now review all of the comments received, undertake any necessary additional analysis, and produce a final version of the document. Once the Final Environmental Impact Statement is complete FRA will also produce a final ruling on the project, formally called the Record of Decision.
While FRA continues to work through the EIS process, the Baltimore-based team is working on other regulatory and permitting aspects of the project as well as marketing the project's northward extension on to Delaware, Pennsylvania, New Jersey, New York, and eventually, Boston.