Taking Care of Business! Another Successful MACo Summer Conference for Northeast Maglev
Our Northeast Maglev marketing team had the pleasure of attending the Maryland Association of Counties (MACo) Summer Conference this August. Located in Ocean City, Maryland, the conference takes place over four days, and hosts over 3,000 participants, 300 booths, and countless educational sessions. Such a massive event connects infrastructure, public service and government organizations, and ultimately gives citizens a chance to learn about the services that help counties optimally function. We hope you'll join us in reflecting on our MACo experience, and maybe we'll see you there next year!
Wednesday, August 17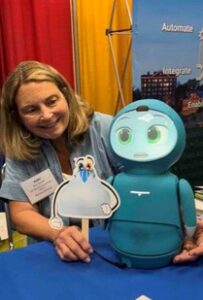 Our first day in Ocean City started off with the exclusive Tech Expo Tradeshow, where 50 technology-focused vendors (including us) were able to talk tech. There were live demonstrations of everything from GIS (geographic information systems), to 3D printing, virtual reality, and more. Our booth featured our hands on magnetic levitation display, where attendees could see firsthand the way magnets can lift and guide a train!
This one-day only tradeshow featured some of the most promising breakthroughs in technology happening right here in Maryland. Check out one of our personal favorite technological pieces we found: Moxie, the helpful robot from Harford County Public Libraries! Our mascot, Mini Maglev, might have a new best friend!
Thursday, August 18
Did we mention that this year's MACo theme was Taking Care of Business? We embraced the 80's theme, as you can tell from this picture of our booth: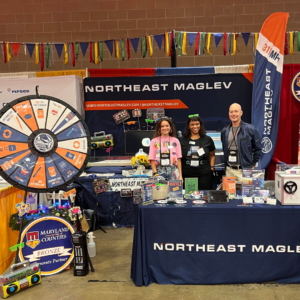 Thursday was quite the day, as it was the first full day of the convention. With over 300 other vendors to see, there was so much to learn about! We had a great time reconnecting with our friends at the Eastern Atlantic States Regional Council of Carpenters (EASRCC). After months of following their success online, it was wonderful to catch up with them in person!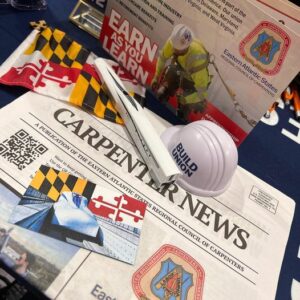 We also attended one of the general sessions offered, called Foundation of the Future: Infrastructure Large & Small. Featuring top state officials and legislators, the session was extremely informative and provided insight into different details of grant programs under the Bipartisan Infrastructure Law.
The day wound down with the Taste of Maryland reception, a wonderful celebration of Maryland's tourism industry through the lens of local food and beverage. We enjoyed select wines, cheeses, and more (and if you're wondering where the crabs are, stay tuned for Friday!).
Friday, August 19
Although it was the last day of the conference, Friday was our busiest day by far! We started the day off early with the County Elected Officials Forum, Business Meeting, & Breakfast, which was a great opportunity for county elected officials to learn how the SCMAGLEV will provide economic and environmental benefit to their constituents.
Later that morning, we had the pleasure of conducting one of MACo's Solutions Showcase Sessions, where our Senior Vice President, Ian Rainey, delivered our presentation: 311MPH to a Brighter Future with Maglev. It was ultimately a detailed synopsis of the technological, economic, and environmental benefits of the SCMAGLEV, and it spurred a lively dialogue about our project's potential!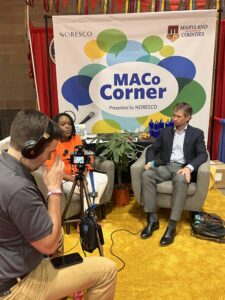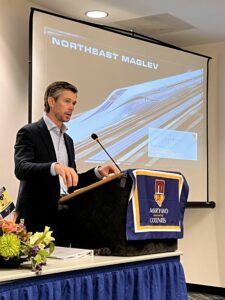 With our final main exhibition day off to an early start, we had a great time engaging with other vendors and MACo attendees. Answering questions and introducing the project to members of Maryland counties (and beyond) is what Northeast Maglev is all about! Stationed not far from our booth was MACo Corner. MACo Corner captured attendees' thoughts on video on a range of topics that are relevant to county leaders. We were lucky to have Ian chosen as an interviewee, where he answered pertinent questions about the project.
Finally, after packing up the booth, we headed over to MACo's all-you-can-eat Crab Feast. The feast was a great way to end the week with what Maryland does best: crabs! We had a great time unpacking the week while picking crabs, and even got to say hi to the governor!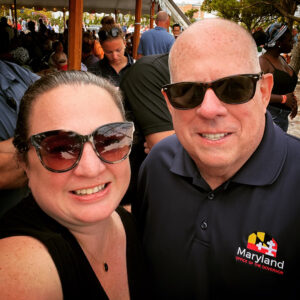 Thank You!
Thank you to the organizers of MACo for putting together such a influential conference. We had a great time learning more about different projects, organizations, and advancements in and around Maryland. And of course, we could not have had such a great time without all of the amazing attendees and vendors at MACo, so thank you to everyone who participated in the conference, and we hope to see you there next year!