If you read our most recent blog post, you may remember that we spoke about how infrastructure projects can positively impact the general population. Not only does the public benefit from the infrastructure itself, but when local union groups are involved, these benefits can stretch even further. In today's spotlight, we are focusing on our partnership with Ironworkers Local Union 5, a branch of the International Ironworkers Union, to highlight some of the impressive programs and initiatives they spearhead. We are proud to collaborate with organizations like Local 5 because it takes the SCMAGLEV project to the next level, allowing for the realization of promising career pipelines and economic opportunities for local residents.
Just a few weeks ago, the Local 5 team offered to take Northeast Maglev on a tour of their apprentice training facility, where they showed us some of their impressive equipment, technology, and hands-on experience areas. And yes, the Ironworker trade deals with a lot more than just iron. Ironworkers create and construct the structural steel framework of buildings, stadiums, hospitals, and bridges (just to name a few). They assemble window wall systems, stairs and handrails, metal doors, and more. Ironworkers are recognized as highly skilled, highly trained, and safety conscious. We were eager to dive into what this may look like from a first-hand perspective.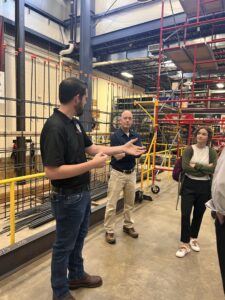 To begin our tour, our teams talked about what infrastructure investment really means for an organization like Ironworkers. Aaron Bast, Local 5 Business Manager, affirmed that not only does the Bipartisan Infrastructure Law (BIL) "…create good jobs in communities across the United States, but it protects our families and our future by ensuring our infrastructure can keep people, goods, and services moving safely."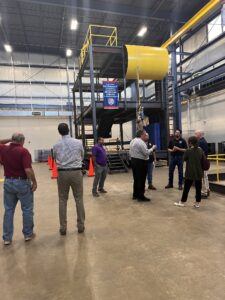 Not only will an infrastructure project of the SCMAGLEV's size create a huge quantity of jobs, but many of these opportunities will be in specialized, unique, highly skilled sectors. Seeing as the SCMAGLEV will be the first of its kind in the United States, there will be a great demand for specific training and construction techniques. This is where partnerships with unions are so valuable, especially with those that prioritize aspects like paid apprenticeship programs. These programs allow individuals to pursue hands-on, sustainable, and family sustaining careers, debt-free. Visiting the Local 5 facility gave us a peek into what the organization is pursuing now, which only gets us more excited about the future.
Our next leg of the tour narrowed in on apprenticeships. We learned that ironworker apprentices are "taught the proper use, care, and safe handling of the tools and equipment used in connection with their work, and, of course, the important skills necessary to become a successful tradesperson." They are required to receive "at least 204 hours of classroom and shop instruction during every year of training. The subjects studied in the shop and classroom complement the thousands of hours of hands-on training received in the field. The subjects include blueprint reading, care and safe use of tools, mathematics, safety issues, rigging, working with rebar, welding and oxy-acetylene flame cutting." Many different subjects are covered, with the opportunity for individuals to narrow in on their interests.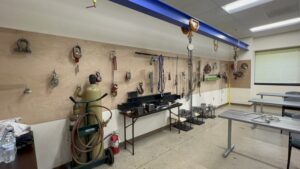 Apprentices are a regular part of the workforce, as they interact with contractors and coworkers daily. They also receive an evaluation about every six months to determine whether or not they are up to speed. If their work is satisfactory, they receive a pay raise, and this usually occurs every six months. These apprenticeship opportunities are valuable, as they are reliable, steady jobs that require no previous education or training. Furthermore, they are accessible opportunities for those who may be unwilling or unable to pursue more traditional education paths.
We had a blast touring the various training areas, and let's just say that these spaces may look a little different than your typical nine-to-five office job.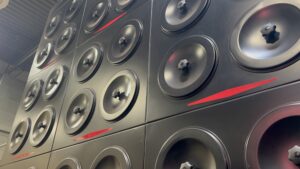 The Local 5 facility has state-of-the-art equipment, and they provide in-depth, hands-on safety courses to best prepare the workers for any possible dangerous situations. Local 5 is also gearing up to start work in the offshore wind industry, as they will be accredited to train ironworkers in five safety modules to get their GWO (Global Wind Organization) safety certification. We are impressed by how committed Local 5 is to staying up to date with the ever-changing construction industry; they never cut corners when it comes to investing in the best equipment and training protocols. This mentality not only mitigates risks, but also produces the best work possible. It was truly enriching and informative to learn first-hand about the apprenticeship pipelines and programs that Local 5 offers. Seeing such an incredible training facility makes us confident that by bringing the world's fastest train to the U.S., we will be drawing from local communities to employ some of the best trained tradespeople in the country. We are so grateful to Local 5 for taking us on a tour of their impressive facility, and we are excited for the day when parts of it may be dedicated to the cutting-edge SCMAGLEV technology!