Northeast Maglev is excited to welcome a new addition to our government relations team, Vice President of Government Relations Zachary M. Radford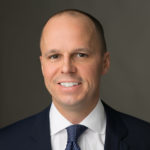 Northeast Maglev today announced that Zachary M. Radford has joined the team as Vice President of Government Relations. In his capacity, Radford will play a key advocacy role for Northeast Maglev's transformative transportation solution in the Northeast Corridor, the 311 mph Superconducting Maglev train.
Radford, a seasoned policy and government relations professional, brings more than 15 years of valuable experience to Northeast Maglev, including many years of developing and executing impactful and comprehensive government relations information programs at the federal, state and local levels.  Wayne Rogers, the CEO of Northeast Maglev said "We are glad to have Zach, with his unparalleled experience and expertise, join our team."
Prior to joining Northeast Maglev, Radford served as Director of External Relations for the Washington Metrorail Safety Commission (WMSC), an independent agency created in 2017 to enforce safety practices on the Washington, D.C. region's Metrorail system. In that role, Radford worked to establish and manage the agency's relationships with federal, state and local governments and build partnerships to ensure regional commitment to safety and effective emergency management.
From 2014 to 2018, Radford worked for U.S. Sen. Richard Blumenthal (D-Conn.), a leading member of the Senate Committee on Commerce, Science & Transportation and a prominent national voice on transportation policy. As Blumenthal's Senior Policy Advisor & Counsel, Radford managed transportation, infrastructure, safety, and many economic and homeland security-related issues.
Radford served as Federal Relations Officer for the Washington Metropolitan Area Transit Authority (Metro) from 2012 to 2014, advocating critical issues before Senate and House offices and federal agencies. Previously, he worked for U.S. Sen. Jon Tester (D-Mont.) overseeing transportation and several other policy issues.
Before working on Capitol Hill, Radford practiced complex commercial litigation with the law firm Rogers, Joseph, O'Donnell.
Radford earned his B.A., cum laude, from Georgetown University and his J.D. from Washington University in St. Louis.
Read additional coverage of Zachary's hiring at Progressive Railroading and Politico and please join us in welcoming him to our team!