Maglev Vehicle Dynamics Simulator Continues Advancement of SCMAGLEV Technology
The SCMAGLEV is getting better every day, thanks to the continuing pursuit of excellence by Central Japan Railway Company.
Central Japan Railway Company recently started operation of a "Maglev Vehicle Dynamic Simulator" at the Komaki Research and Development Center. Located outside of Nagoya, the Komaki Research Center opened in 2002 and has been a hub for progress that has allowed the Japanese rail line Tokaido Shinkansen to advance and maintain its status as the safest and highest-quality high-speed railway in the world.
At the Komaki R&D Center's new  simulator, Central Japan Railway Company is able to conduct simulations that will further improve SCMAGLEV technology and make for even more efficient construction, operation, and maintenance.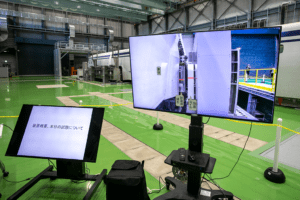 A mockup trainset, utilizing actual train cars run on the Yamanashi Maglev Line, is used for testing at the Maglev Vehicle Dynamic Simulator. The equipment is already in operation and has been used in tests for optimizing ride comfort and earthquake safety systems. Future Tests will be conducted to further increase ride comfort, extend the long-term durability of the SCMAGLEV's superconducting magnets, and furthering the SCMAGLEV's world-class safety record by improving its condition monitoring system.
In 2020, Central Japan Railway Company introduced an improved version of the Series L0 (L-zero) SCMAGLEV train that has begun test runs. The improved version of the Series L0 includes a new aerodynamic front shape, environmentally-friendly inductive power collection system, updated vehicle appearance and more.
Check back for more updates as Central Japan Railway Company continues to make the SCMAGLEV a model for ultra high-speed rail.