Hello 2020!
2019 was a great year for Northeast Maglev so we're taking a moment to highlight a few of our accomplishments!
We believe that the most successful companies are the ones that give back to the community. Northeast Maglev is happy to have participated in a range of outreach events across Baltimore that empower our city's youth and young professionals! 
We are excited to have gained tremendous support over the past months from the Maryland State NAACP, four of our local NAACP branches (including Prince George's County, Anne Arundel County, Baltimore County, and Baltimore City), four local Chambers of Commerce and you! Below quick summary of our activities and accomplishments within the community this year!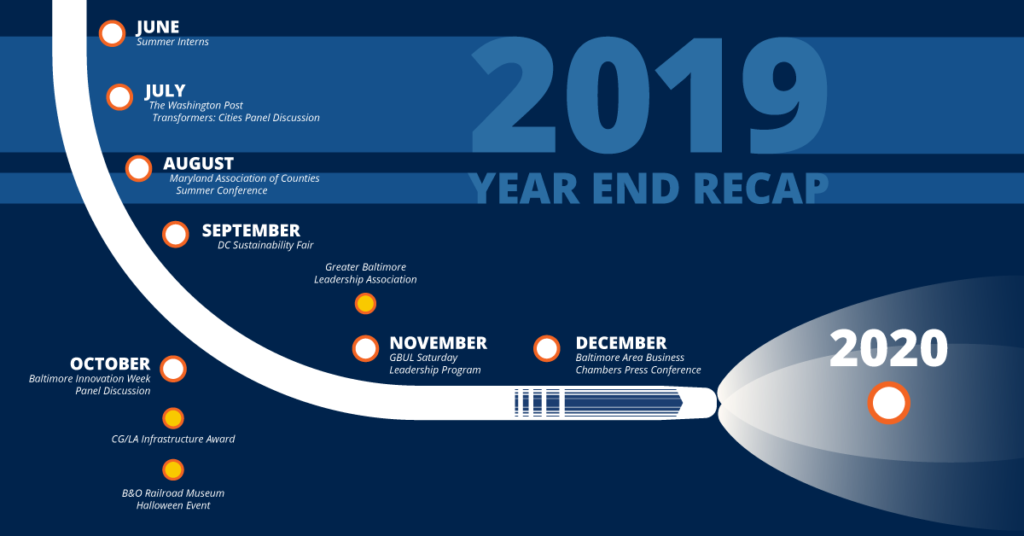 JUNE
Northeast Maglev pioneers its first summer internship program
Northeast Maglev is proud to have offered summer internship opportunities to four local university students of the University of Maryland, College Park, University of Maryland, Baltimore County and Anne Arundel Community College. 
Our Interns put in a lot of hard work this summer and made a huge impact at Northeast Maglev! You can read all about Sam, Claudia, Lexi and Kali's experiences while interning with us here at Northeast Maglev! 
The NAACP Maryland State Conference and four local branches voiced their support for Northeast Maglev's SCMAGLEV project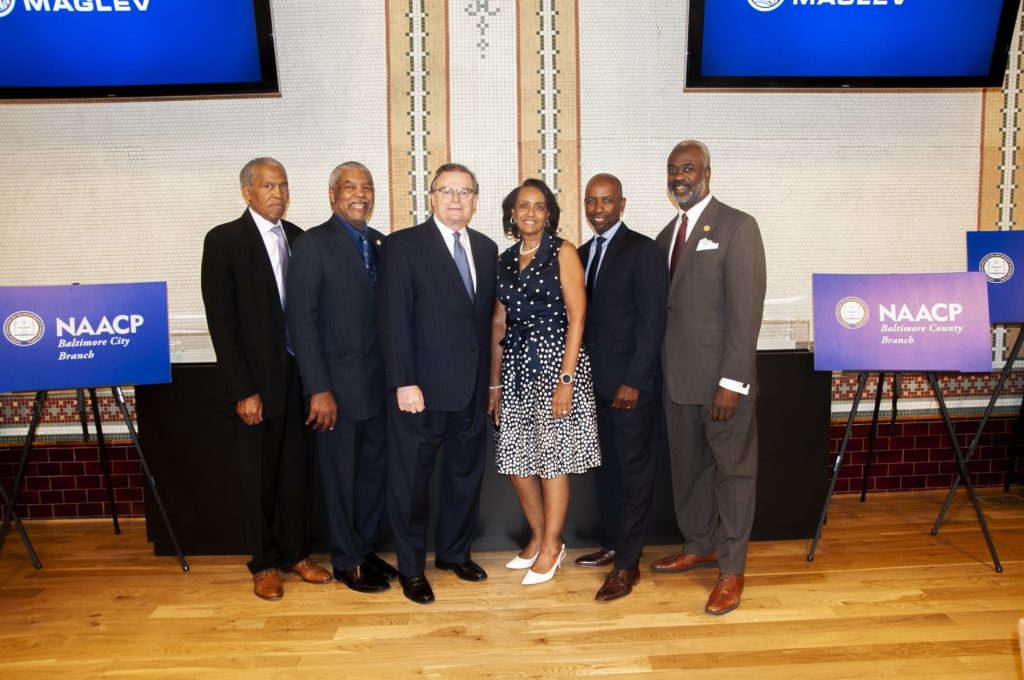 Local leaders of the National Association for the Advancement of Colored People (NAACP) Maryland State Conference announced their support for our project over the summer, advocating for Northeast Maglev's development of a high-speed rail line that would provide exceptional opportunities for underrepresented communities. 
Northeast Maglev will continue to work with the NAACP to ensure that progress is made towards building better economic conditions, driving career opportunities and extending access to educational opportunities for all. 
We are excited to have the support of the NAACP and look forward to continuing to work with its leaders and members.
JULY
Senior Vice President Ian Rainey is guest speaker for The Washington Post Transformers: Cities panel discussion
Senior Vice President Ian Rainey was invited to participate in the Washington Post's Transformers: Cities Panel to discuss the future of innovation in Washington, DC.
Rainey highlighted Maglev as the perfect solution for congestion along the Northeast Corridor. SCMAGLEV will provide commuters with a faster and safer transportation alternative that will connect Washington, DC to New York in one hour!
You can catch snippets of the "Transformers" series here on the Washington Post's website. 
AUGUST
Northeast Maglev sponsored the Maryland Association of Counties (MACo) 2019 Summer Conference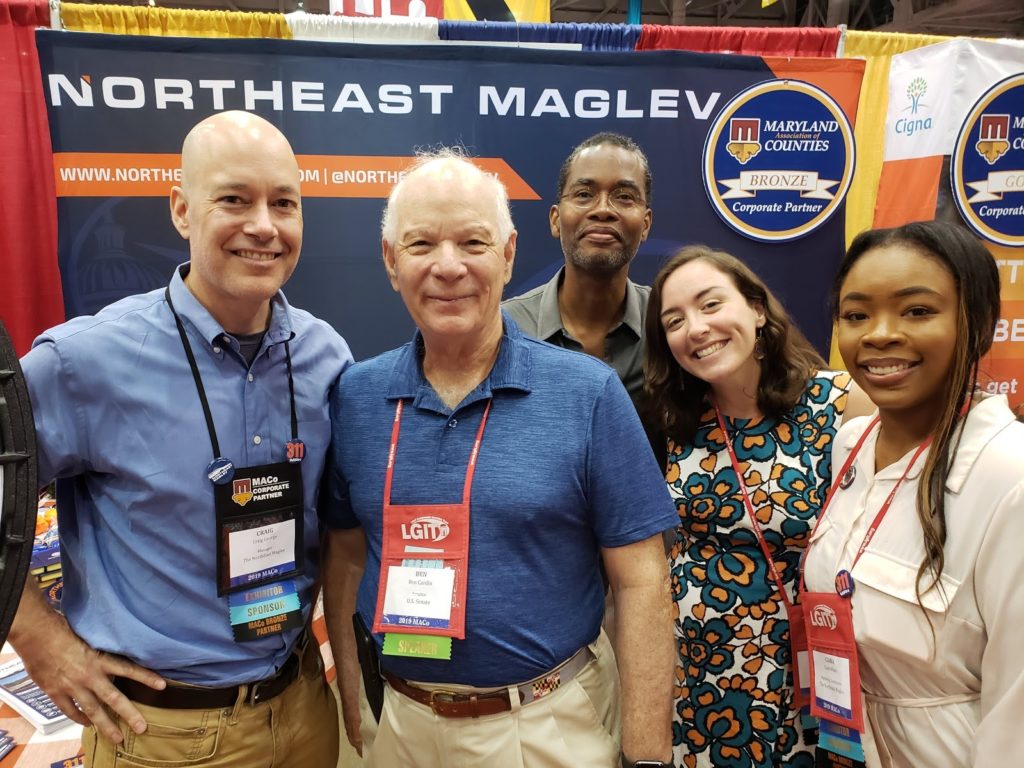 Northeast Maglev once again had the pleasure of being a Corporate Sponsor for Maryland's Association of Counties 2019 Summer Conference (MACo) held in Ocean City, Maryland, August 14th – 17th. 
Northeast Maglev's project director, David Henley, had the opportunity to speak on behalf of the company with a well-attended presentation titled Maglev and Maryland: Innovation, Opportunity, and Green Transportation. When asked about the opportunities Maglev will provide Marylanders, David shared, "it will generate tens of thousands of construction jobs – diverse jobs, serving a diverse region and state." He went on to say, "and when it arrives, thousands will stop driving and start riding, resulting in cleaner air for all. Next stop: the future."
Our team really enjoyed speaking with many people about how they live, work, and commute in Maryland, and who were eager to learn about what Northeast Maglev has to offer the region.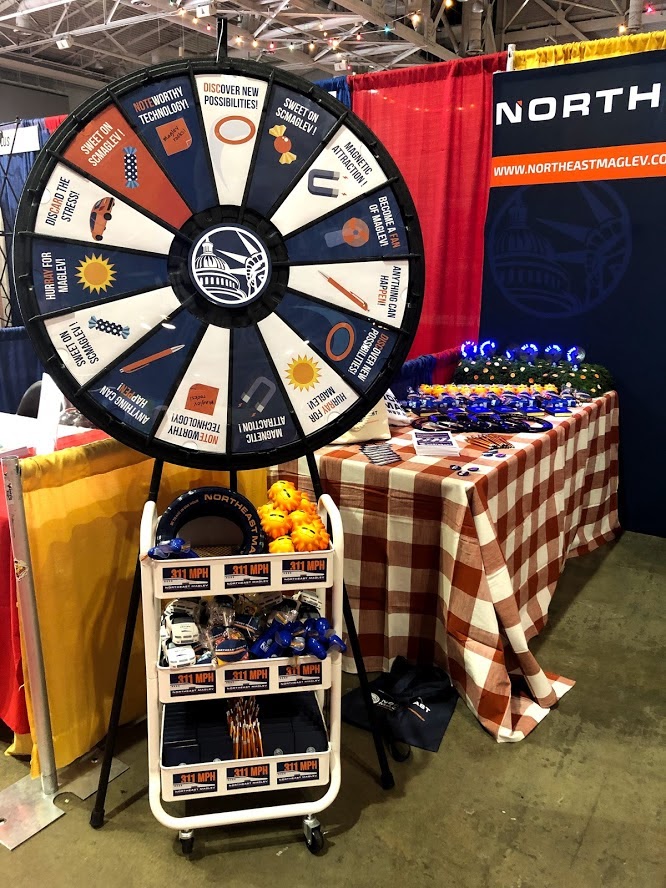 Check out some of our cool giveaways from MACo 2019!
SEPTEMBER
Northeast Maglev summer interns participated in Fairmont's 10th Annual Sustainability Fair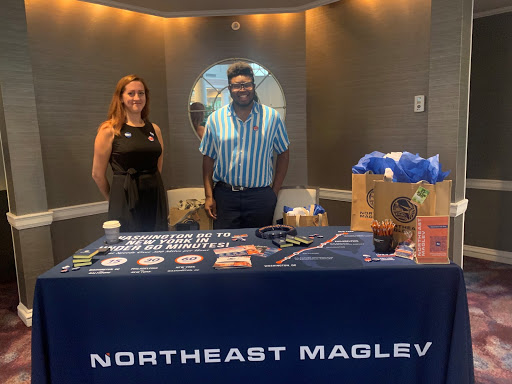 Northeast Maglev was proud to be a participant in the Fairmont, Washington DC 10th Annual Sustainability Fair over the summer. The fair showcased over 20 DC-based organizations that are redefining what it means to be eco-friendly. Two of our summer interns attended the event and discussed with participants the technology behind the train and the environmental benefits it will have in the Northeast Corridor! 
We were proud to be in attendance among other organizations like the Departments of Energy and Environment, Department of Public Works and DC Sustainable Energy Utility.
OCTOBER
Marketing Manager Craig George, guest speaker at Baltimore Innovation Week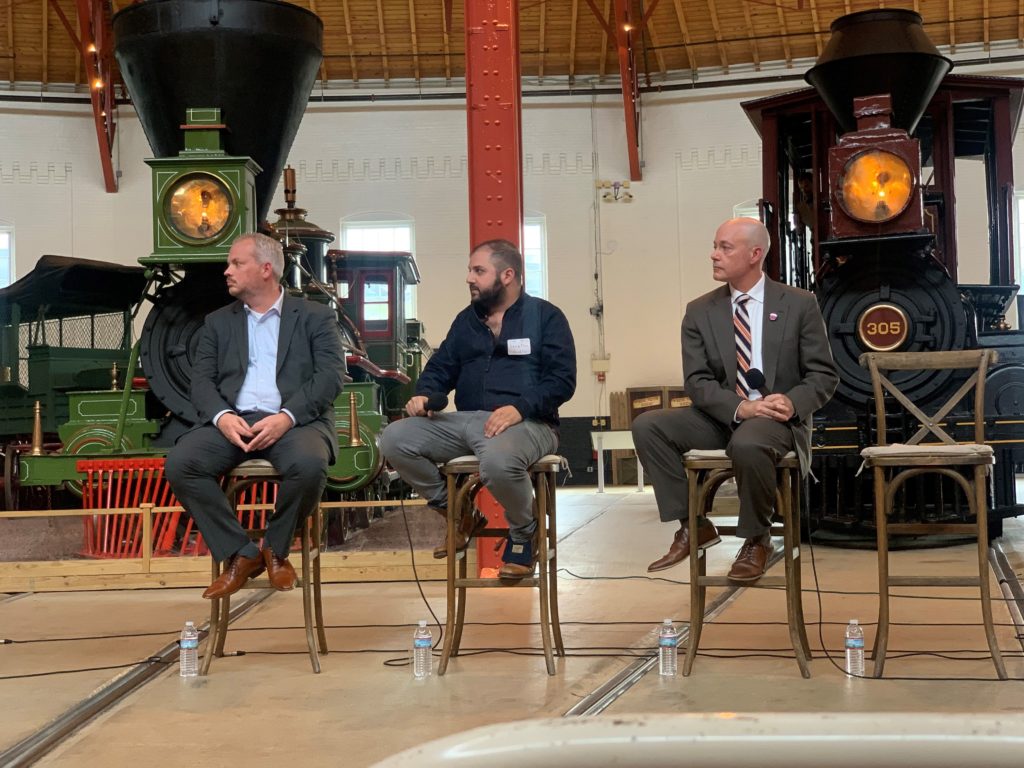 In October, Northeast Maglev's Marketing Manager, Craig George was invited to speak as part of The Future of Transportation and Delivery panel sponsored by Enradius at the B&O Railroad Museum. Craig was excited to speak about the future of Maglev in the and the nation's need for high-speed rail in the picturesque and historic roundhouse of the B&O Railroad Museum! 
Northeast Maglev receives CGLA Infrastructure Award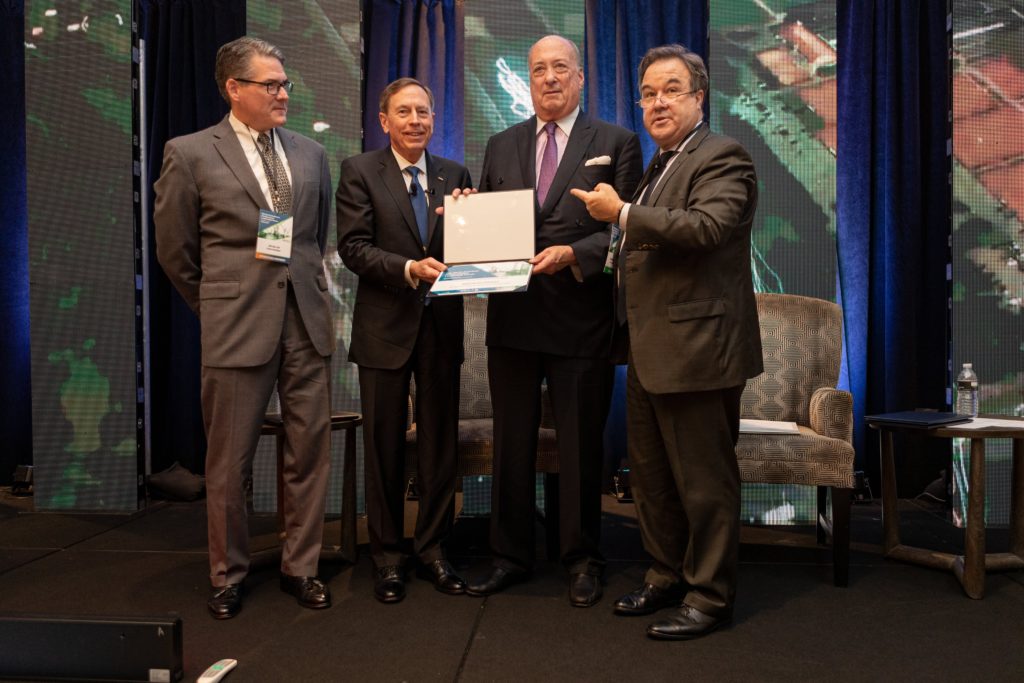 In October, Northeast Maglev was nominated by CGLA Infrastructure as one of its Top 10 Critical Projects award and the Engineering Project of the Year award! Vice-Chairman Jeff Hirschberg accepted both awards on behalf of Northeast Maglev. 
We were incredibly honored to be recognized for our innovation in technology among other great projects and are excited to bring SCMAGLEV's transformative technology to the Northeast Corridor. 
Northeast Maglev sponsored B&O's Halloween Toddler Time Event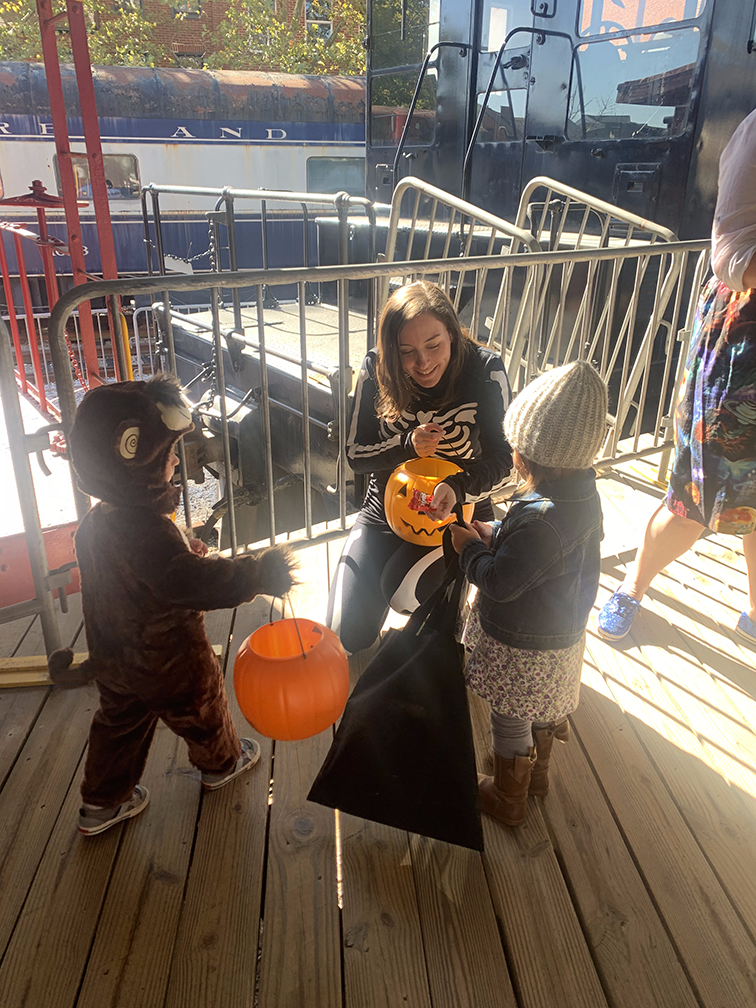 To show our love for Halloween and the B&O Railroad Museum, Northeast Maglev sponsored trick or treat bags and Spooky Activity Books for the B&O Railroad Museum's Toddler Time Halloween & Costume Parade! 
We enjoyed working with the B&O Railroad Museum and handing out candy to all of the adorable kids who paraded around the museum!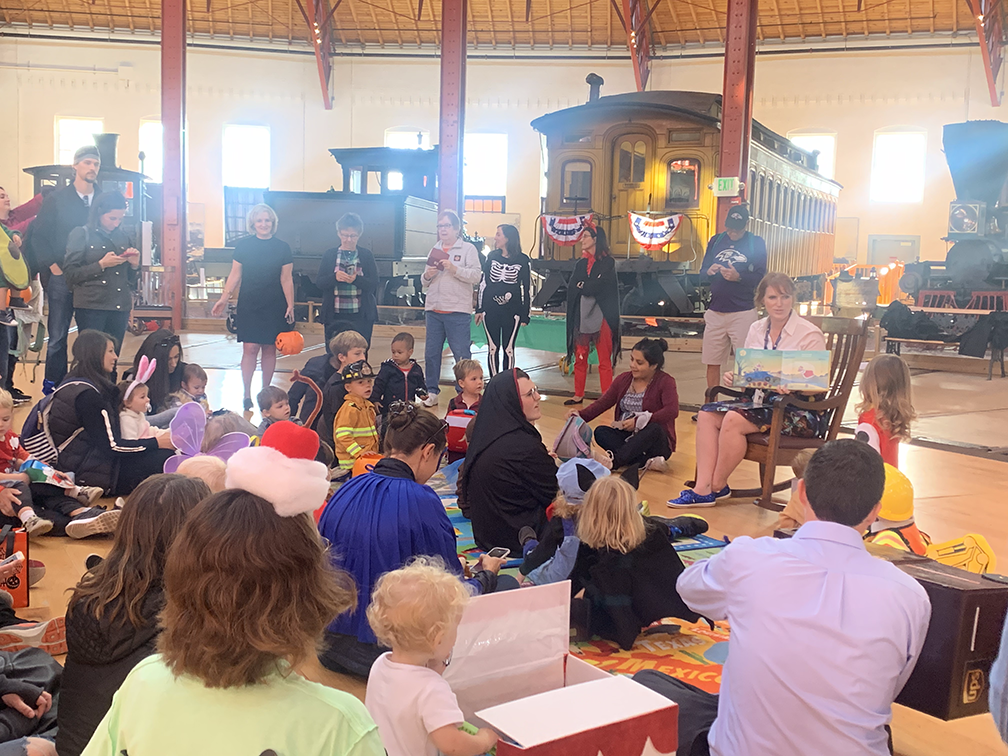 You can read more about our involvement with B&O here: Northeast Maglev Sponsors B&O Railroad Baltimore Toddler Time Halloween & Costume Parade.
NOVEMBER
Northeast Maglev launched a petition to show support for MAGLEV in the Baltimore and Washington, DC region
We launched a petition over the end of year holidays to show Maryland legislators all the support that the maglev project has. To date, we are excited to share that we've collected more than 3,100 signatures! 
Show your support for the project and sign the petition here! 
Northeast Maglev participated in the Greater Baltimore Urban League (GBUL) Saturday Leadership Program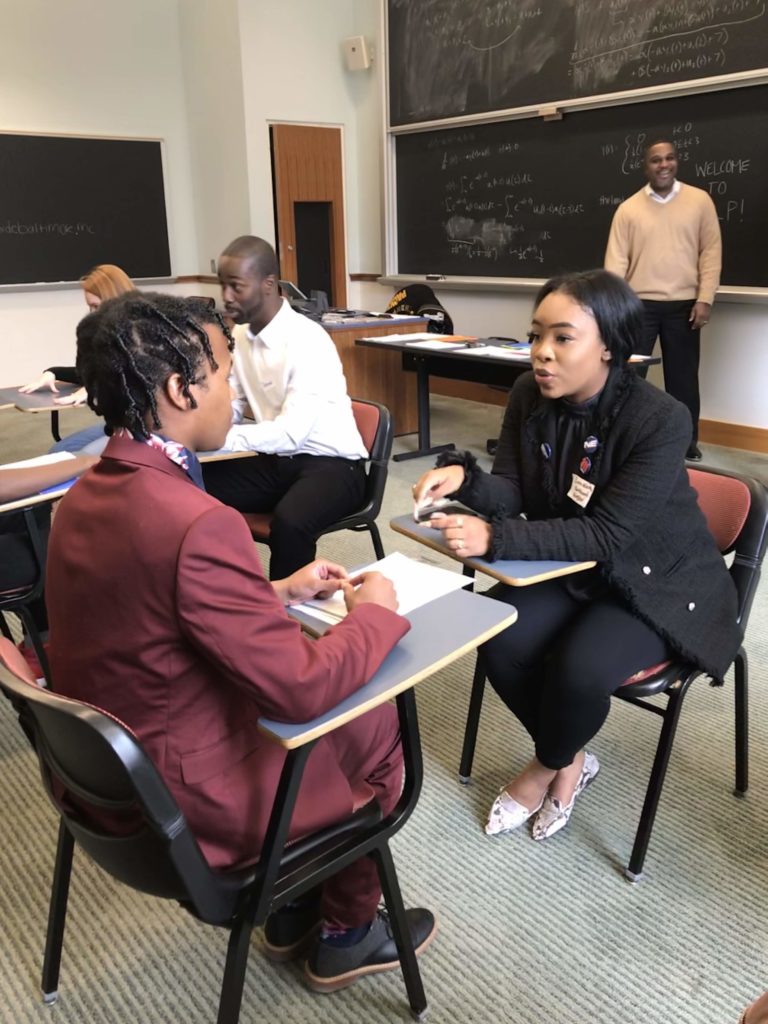 Our team was very excited to participate the Greater Baltimore Urban League (GBUL) Saturday Leadership Program. GBUL helps disadvantaged Marylanders gain access to equal opportunity in employment, education, health care, and housing.  The Saturday Leadership Program provides free access to college and career readiness activities including providing youth access to college tours, leadership and networking workshops, career assistance, service-learning opportunities and much more. 
Our team volunteered to conduct mock interviews at a Saturday Leadership Program event, helping highschoolers sharpen their networking and interviewing skills.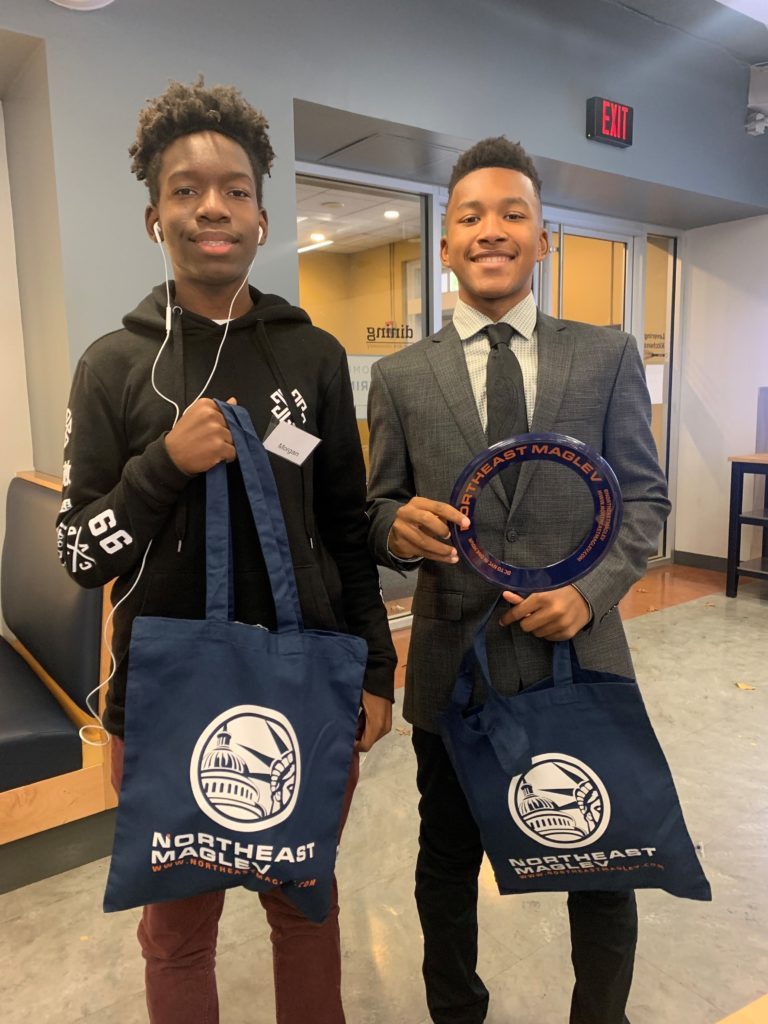 Everyone was extremely enthused and eager to learn more about the technology behind our train and the opportunity it will bring to Baltimore and surrounding communities. When the event was over, Northeast Maglev frisbees could be seen soaring in the wind all around the Johns Hopkins University Campus! 
Northeast Maglev Sponsors the Greater Baltimore Leadership Association (GBLA) Networking Session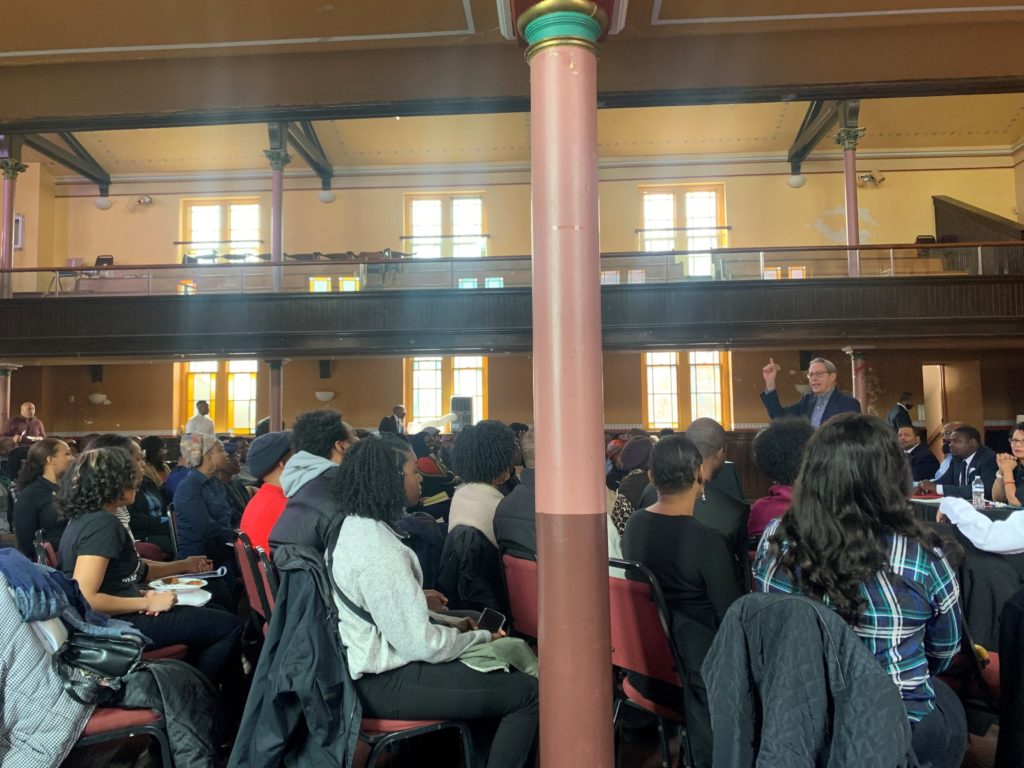 Our service to the community didn't stop there! Northeast Maglev had the privilege of sponsoring the Greater Baltimore Leadership Associations National Day of Empowerment event. 
The Greater Baltimore Leadership Association is a young professionals auxiliary of the Greater Baltimore Urban League. GBLA serves young African American minorities ages 21-40 who are committed to making a difference within the community. 
The Association hosted a networking session for young professionals discussing the value of investing in Baltimore as a small business owner. Our project director David Henley spoke on behalf of Northeast Maglev about the many benefits and opportunities the development of SCMAGLEV will bring to the residents of Baltimore and vicinity. 
DECEMBER
Four local Maryland Chambers of Commerce voiced their support for the development of the Northeast Maglev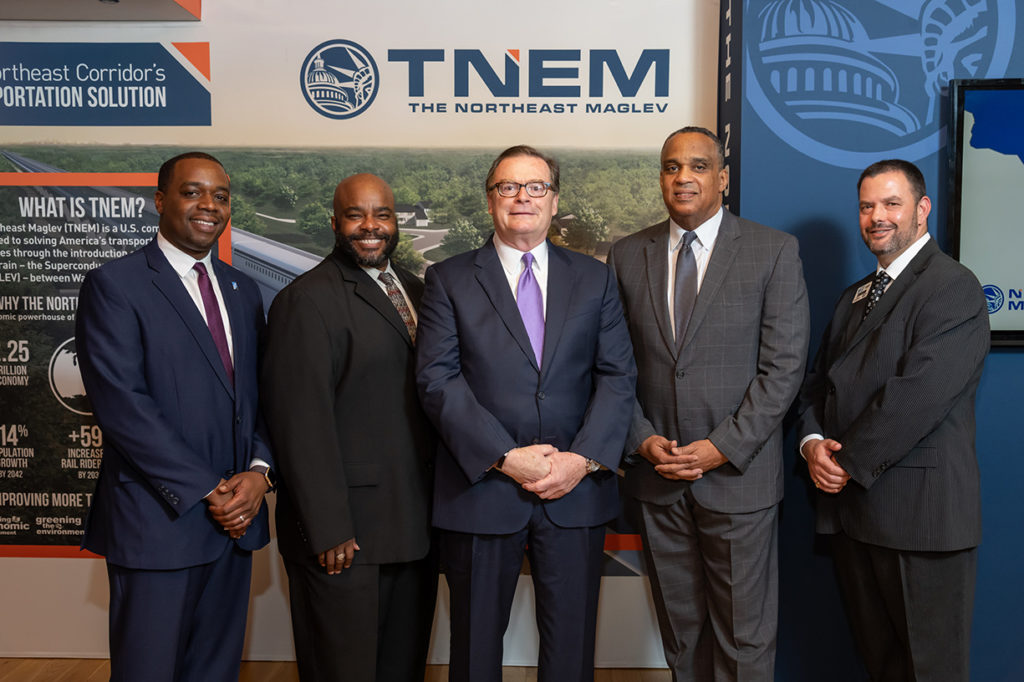 Four of our local Chambers of Commerce also announced their support of our project. Prince George's County, Northern Anne Arundel County, Baltimore City and Baltimore County Chambers all voiced their full support of Northeast Maglev's proposed high-speed rail project. 
These organizations recognize the development of SCMAGLEV as a solution to congestion and as a driver of economic growth along the northeast corridor. Chamber executives voiced support for the positive impact the project will have on area businesses, visitors, residents, and state and local economies.
We are excited to have the support of the Chambers and look forward to working with its leaders and member businesses in the future!
LOOKING AHEAD
All in all, 2019 proved to be a very busy year for the team here at Northeast Maglev. With the final steps in the Federal Railroad Administration's Draft Environmental Impact Statement process anticipated in the coming year, 2020 should prove to be even busier!