Reflecting on another great year
Welcome to Northeast Maglev's Top Moments of 2022, where we recap and reflect on some of our most memorable events from this past year (in no particular order). The last twelve months have been more than good to us; we've made great strides as a project, added new team members to the company, and further connected with organizations and citizens who care as much as we do about our nation's transit future. Reflecting on these incredible experiences already has us enthusiastic for 2023, which we're sure will be filled with just as much prosperity, community, and positivity.
Sakura Matsuri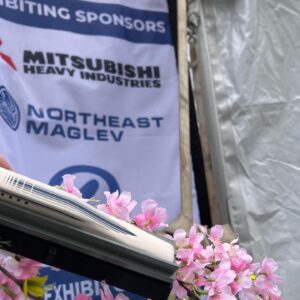 Sakura Matsuri was definitely one of our most exciting events of the year, and probably the most populated one! This Japanese Street Festival, which coincides with the cherry blossom blooms in Washington D.C. every April, is the largest celebration of Japanese culture in the United States. We thoroughly enjoyed soaking in the amazing music and atmosphere while engaging with thousands of attendees about the revolutionary superconducting maglev technology. Many festival goers traveled from several major cities along the U.S. East Coast to attend the festival, and can't wait for the maglev's construction to start. We're looking forward to participating in Sakura Matsuri in 2023!
MACo
Our longest event of the year was the Maryland Association of Counties (MACo) Summer Conference in August. Located in Ocean City, Maryland, the conference takes place over four days, and hosts over 3,000 participants, 300 exhibitors, and countless educational sessions. Such a massive event connects infrastructure, public service, & government organizations, and ultimately gives attendees a chance to learn about the services that help counties function optimally. This summer's conference was a great experience, and we are eager to attend the MACo Winter Conference in early January 2023!
Fleet Week Open House
Fleet Week was back in Baltimore this year! In early September, many famous and historic ships sailed in and out of the Inner Harbor, and the city celebrated with various different festivals, events, and performances. We joined in on the fun and hosted an open house at our office headquarters, where we invited Fleet Week visitors to come take a tour of our unique building. We held a raffle, had fun games for kids, and participated in lively discussions with local residents about what the SCMAGLEV will represent in Baltimore.
Baltimore County African American Cultural Festival
Another highlight of the year was the African American Cultural Festival that takes place every year in Baltimore County. One of the largest African American festivals on the East Coast, the festival is a celebration of African American life, music, and culture. We were honored to be a sponsor at this year's festival, and really enjoyed talking with attendees about the maglev.
Japan Day Festival
In October, we had the pleasure of attending the "Japan Day Festival" in Columbia, Maryland. The event celebrated forty years of the sister-state relationship between Maryland and Kanagawa Prefecture. There were plenty of activities and traditions present, like origami, calligraphy, a cosplay contest, and tea ceremonies. We were eager to talk to attendees about the Superconducting Maglev and its potential cultural significance when it arrives in the United States. With the renewed Memorandum of Cooperation (see below on this list!), we can only hope for more events like this in the future!
STEAM Education Event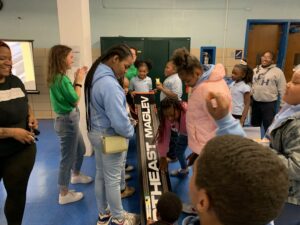 You might have seen our most recent blog post that reflected on this special event that we hosted in November. To celebrate National Education Month and more specifically all things STEAM (Science, Technology, Engineering, Arts, and Math), we teamed up with RICH (Restoring Inner-City Hope) to bring an afterschool event to Baltimore elementary school students. We explored the technological concepts behind the Superconducting Maglev through interactive lessons and experiments. It was an enriching experience that we hope to replicate across multiple grade levels!
South Baltimore Community Events
We attended many notable community events in various South Baltimore neighborhoods this year, so we couldn't pick just one to focus on! From attending Lakeland Day in June, to the Cherry Hill Development Corporation's Holiday Party this December, we have had a great time getting to know the residents of South Baltimore. These events have been replete with games, music, activities, and most importantly, community. The SCMAGLEV is more than just a train; it aims to connect communities and provide opportunities. We are grateful for these events because we can communicate directly with residents who will benefit from the project. Here's to even more community events in the future!
Trips to Japan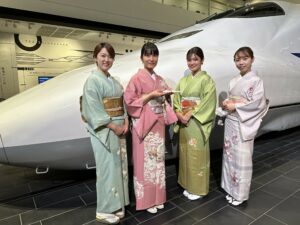 A few of our team members were lucky enough to travel to Japan this year on multiple occasions! We are so fortunate to be back visiting with our friends at Japan Central Railway Company, as there's nothing like seeing the SCMAGLEV in person and experiencing Japanese culture firsthand. The cultural enrichment and exchange are invaluable, and we're always eager for more, whether it's through delicious meals, appreciating the landscape and nature, or, of course, through riding the Superconducting Maglev!
Memorandum of Cooperation Signing
On December 12th, a few of our team members were honored to attend the renewal of the Memorandum of Cooperation (MOC) between the State of Maryland & the Nation of Japan. This historic renewal symbolizes the economic & technological opportunities for collaboration between our nations. It also solidifies great potential and commitment to the SCMAGLEV, and we are thankful that we were able to attend such a monumental event.
December Donations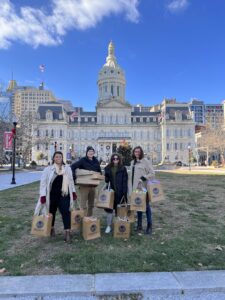 As a company, we focused on several major community service events on this winter, all in an effort to give back. At City Hall, we donated hundreds of toys to the Mayor's Toy Drive for the 75th anniversary of the Marine Corps Toys for Tots Program; don't miss Mayor Scott's post about it here. Our second community service event took place at Arundel Elementary School in South Baltimore, where we handed out hundreds of beanies & gloves, along with educational coloring books and paper folding maglev trains. Our last event was a "Pack-a-Backpack" Donation Drive to benefit our neighbors at Grace & Hope Mission. Throughout the month of December, the Northeast Maglev team collected countless toiletries and food items to fill backpacks that the Mission will distribute to those experiencing home insecurity. We are so thankful that we could be of service to others this holiday season.
If you attended any of the above events, thanks for coming out and making these moments so memorable! And if we didn't have a chance to meet you this year, hopefully we can see you in 2023. Our calendar is already looking packed, so stay tuned for some of the exciting events we have planned. We look forward to continuing involvement in our communities, deepening our international relations, and furthering the project as a whole. From our team here at Northeast Maglev, we wish you a safe and happy 2023!